Meet our Education Team
The Education Team at inspire+ is made up of a team of highly qualified teachers and assessors all with extensive teaching experience in PE and School Sport.
Steve Bull – Head of Education – Steve is the former director of sport and assistant principal with a Multi Academy Trust. He has experience in the strategic delivery and the development of PE and school sport programmes.
Jon Clack – Senior Tutor / Strategic Lead for School Development – Jon is a former primary school head teacher and has been involved in primary school teaching and the delivery of PE & school sport for 25 years as well as being an advocate head teacher for the Youth Sport Trust.
Jade White – Business Development Manager – Jade has worked in recruitment for a number of years. Jade leads the oversees the recruitment of high quality learners onto our education programmes. Jade also works with the inspire+ trustees supporting the charity's strategic direction.
Marc Blackman – Assessor/Tutor – Marc has worked for the charity for 7 years. Within that time Marc has lead many programmes including Sports Leaders and Leadership Academy. Marc has also led initiatives such as the Legacy Challenge as well as overseeing the roll out of the new #HealthyHappyActive Programme.
Dave Upton – Assessor/Tutor – Dave is a qualified secondary PE teacher and assessor. Dave has experience of working in a primary and secondary setting as well as working with his local school sports partnership in Norfolk.
Our Programmes
As a charity, our quality of delivery is everything to us. Because of this ethos our learners have
achieved outstanding results in our first 3 years of delivery.
At the heart of our success is the recognition of the importance of practical training our
learners receive. Learners can apply these practical skills directly into their work environment.
This has an immediate and profound affect in schools and on students.
A fundamental part of our success has been preparing learners for the next stage of their
career journey. Working closely with local employers enables our learners to have access
to permanent employment for a wide range of roles. We are proud of the outstanding
destinations of our learners and have a superb alumni. Many of our learners gain permanent
employment with their apprentice employer or move onto university or higher education.
With the experience of our education team we are able to advise those learners who are
interested in pursuing a career in teaching. We work closely with local universities to provide
opportunities to prepare learners for higher education if this fits with their ambitions.
We now deliver programmes in PE and School Sport, Active Wraparound Care and
Community Sport and Health. Please see below the range of programmes we offer:
Existing Employees Training
We offer a number of programme for existing members of staff. We are passionate about upskilling staff we work with and strive to support our schools.
We deliver an 18 month distance learning Level 3 Supporting the Delivery of PE and School Sport advanced apprenticeship. This programme is ideal for teaching assistants and other school based support staff who currently work and support PE and School Sport. The course is specifically designed to provide you with a greater understanding of programmes of study for physical education, the national curriculum and the environment in which you currently operate. This course would be ideal to further your professional development and gain a level 3 qualification.
With the support of the highly qualified tutors the course will further develop your knowledge and skills in order to allow you to further support the delivery of physical education and school sport (PESS) programmes in a school sport environment.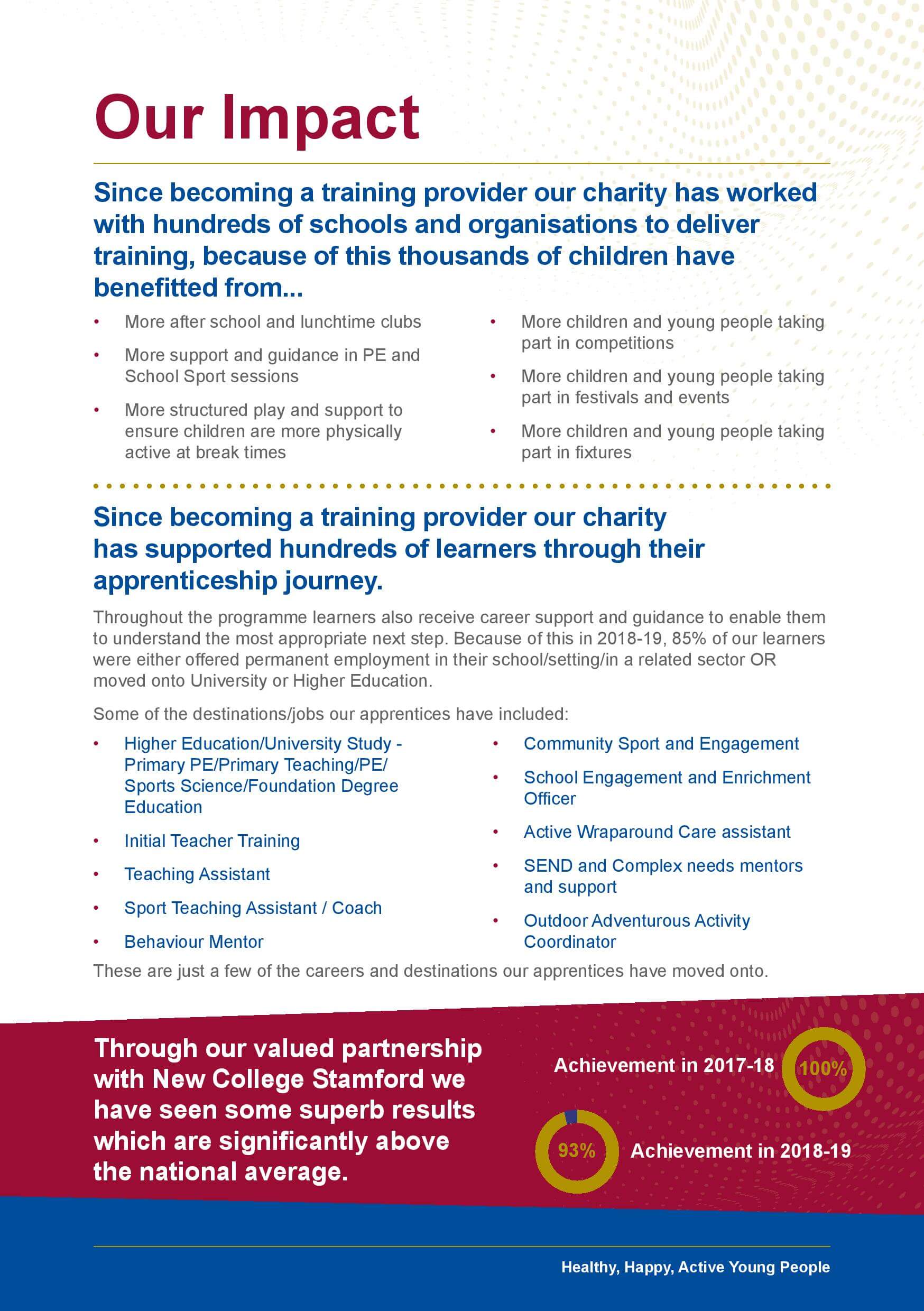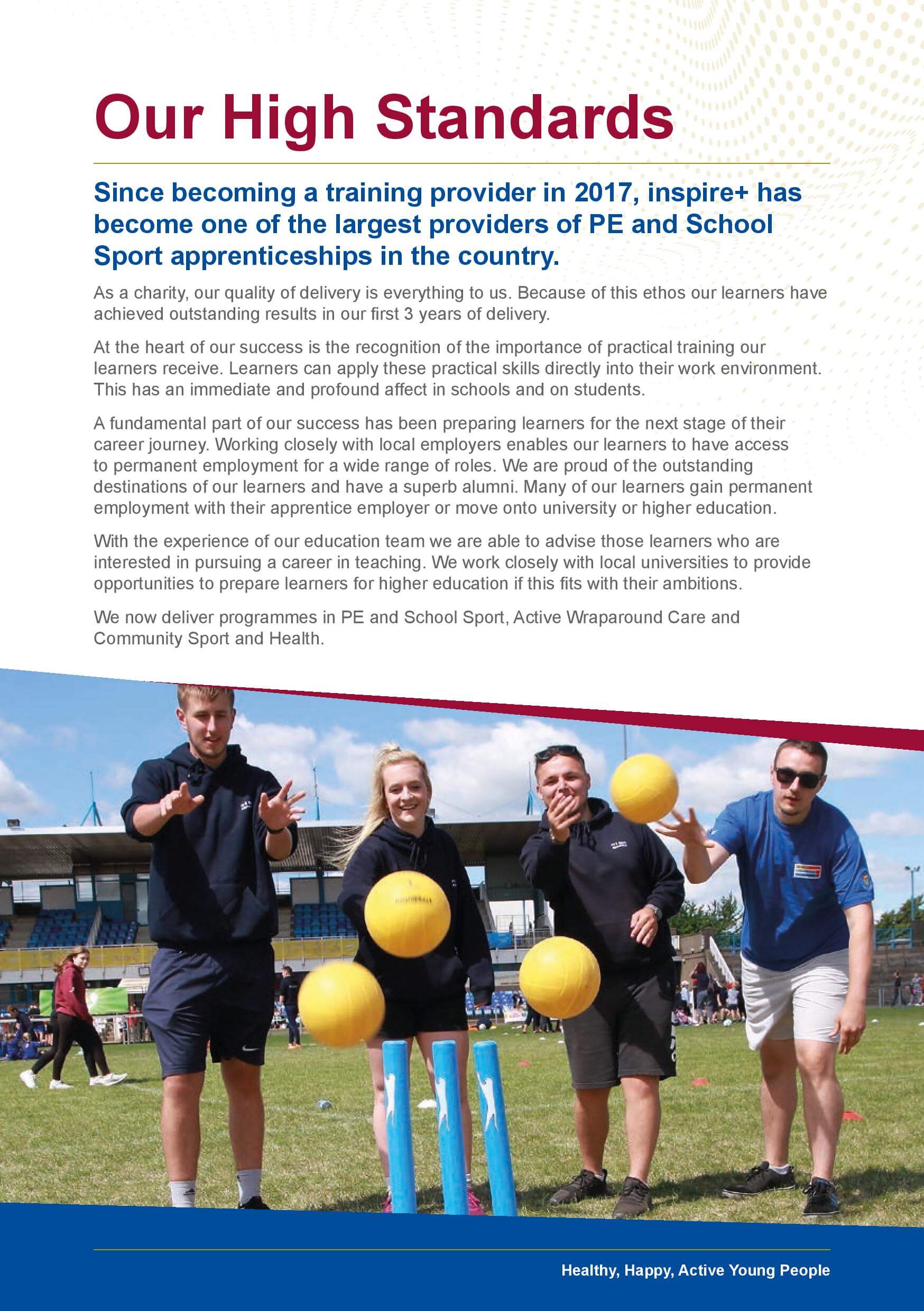 School / Employer Information
Making a decision to appoint an apprentice can be a big decision for your school or organisation. We understand that your time is precious. We can support you through this process in order for it to be as smooth as possible. Our business development manager offers personal advice during each stage of the appointment process. From accessing your levy contribution to supporting you with recruitment, we will support you every step of the way.
Please see the information below on how to start the process.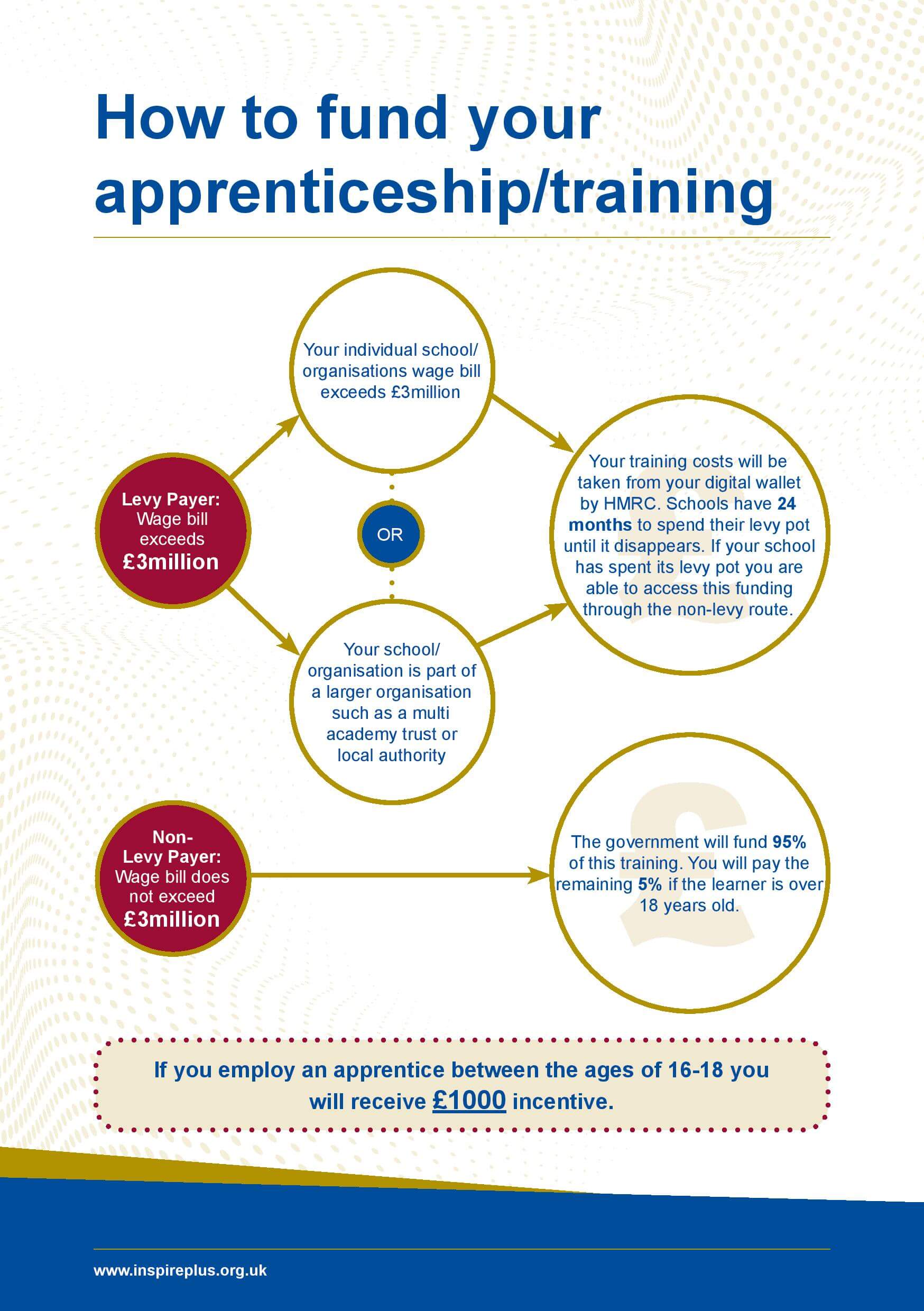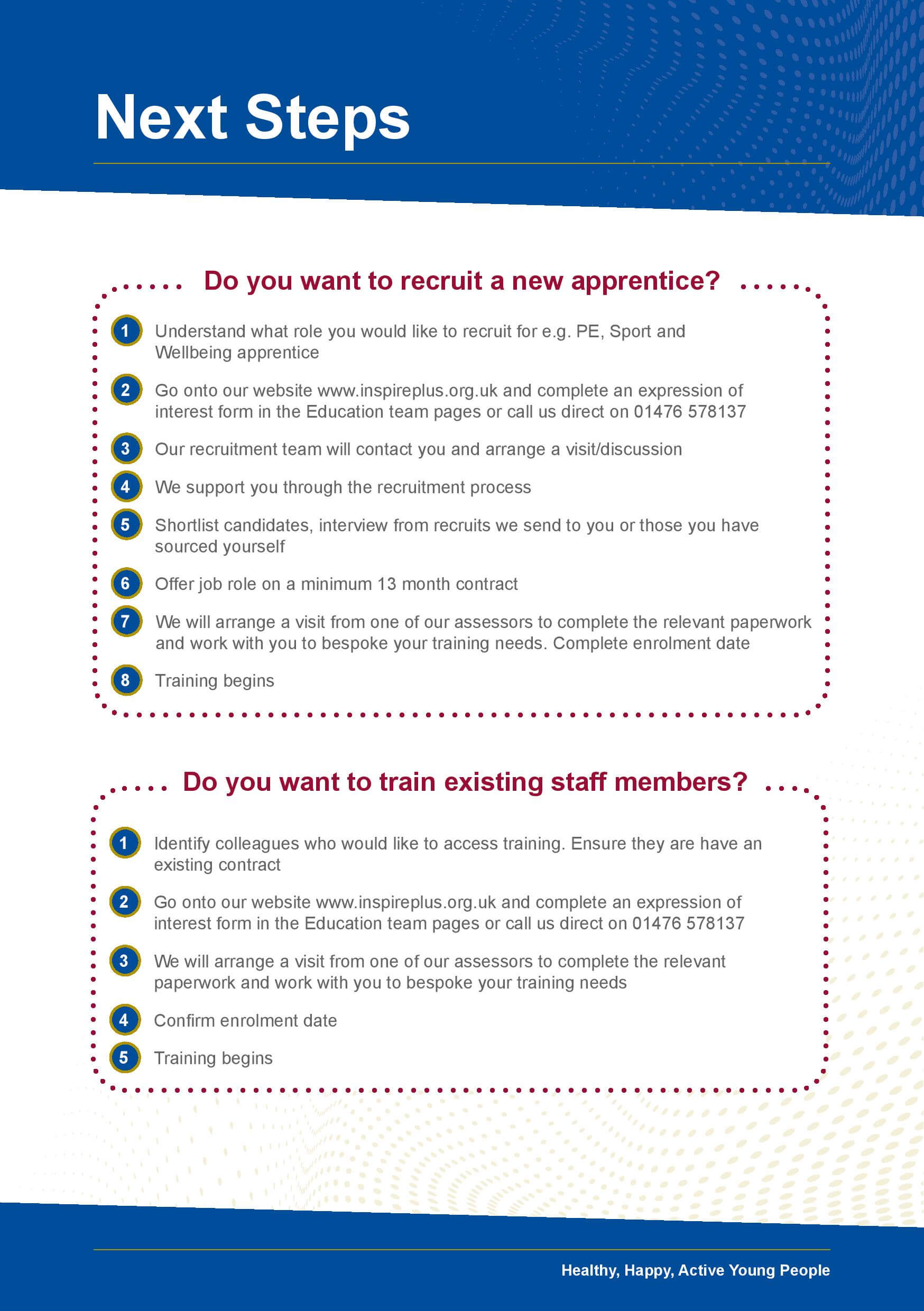 Become an inspire+ member
Interested in becoming one of our member schools? Call now on 01476 578 137 or click to...
inspire+ Award Winners:
Grantham Journal Business Awards: Business of the Year 2020
Grantham Journal Business Awards: Covid Bounce Back Award 2020
Active Lincolnshire Sports Awards: Social Media Influencer of the Year 2020