inspire+ Sports Leader Best in the County!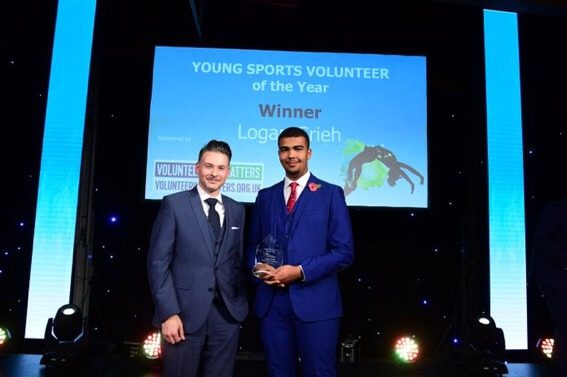 On Thursday 1st November the annual Lincolnshire Sports Awards took place at the Lincolnshire showground. Organised by Active Lincolnshire as a celebration of the sporting achievements across Lincolnshire, the night was attended by 350 people from clubs, businesses and schools. The night honoured the athletes, coaches and volunteers who have made a difference to sport and physical activity over the past year.
Local sports volunteer and inspire+ Senior Young Ambassador, Logan Grieh who attends the Priory Ruskin Academy was nominated as a finalist for Young Volunteer of the Year alongside 2 others very deserve local finalists.
It was with delight that Logan was chosen as this year's winner and presented his award by Olympic Bronze medallist, swimmer Steve Parry.
Logan has been a volunteer for inspire+ for over 4 years and has put in hundreds of hours volunteering at local clubs, competitions and community events whilst more recently being a key player in the charities Young Ambassador steering group, taking on roles helping to run events such as the Mini Olympics.
On winning the award Logan said, "It was an honour to even be nominated for the Young Sports Volunteer of the Year Award but then, to find out I had been shortlisted to the top three was fantastic. I was absolutely thrilled when they announced I was the winner, if not a little surprised! I absolutely love my role as Gold Ambassador within the inspire+ organisation and enjoy all my volunteer work during all the different sporting events. The best part of being a volunteer is to see the kids enjoying themselves, making sports fun with a little competitiveness thrown in! As a volunteer my main aim is simple, if the kids have left a well organised event with a smile on their face and have been inspired to try a new sport or continue with one they are passionate about, then I have done my job. Thank you to all at inspire+ for allowing me to be part of their organisation."
inspire+ is extremely proud that one of its young volunteers has been recognised by the county for their hard work and dedication. Logan is one of over 350 Young Ambassadors and Sports Leaders who volunteer and receive training through inspire+ to benefit the lives of young people through sport.
inspire+ Operations Manager, Chris Graves said "We are delighted for Logan to win this award. He thoroughly deserves it for the hours are volunteering he has given in the local schools and community. Logan is a credit to inspire+ and we are very proud to have seen his development from joining the Sports Leadership Academy in year 9."
Latest News from inspire+
Week 6, Term 1. The pupils are loving the atmosphere we have created here at Uffington Primary School. We have over a quarter of the school access the provision either in the morning, after school or both. We have theme-based activities planned throughout the week:...
read more
England Athletics is delighted to announce that inspire+ has become the first provider to sign up for our funetics movement to help inspire primary school children to take part in fun athletics to get more active. It's a double celebration, as we celebrate the success...
read more
Become an inspire+ member
Interested in becoming one of our member schools? Call now on 01476 678 137 or click to…
Inspired Testimony
The additional sports funding for primary schools is spent extremely effectively to inspire pupils and ensure their sports skills and enthusiasm secured.
Click to read more of the fantastic testimonials and comments we have received from schools, parents, pupils and Ofsted…