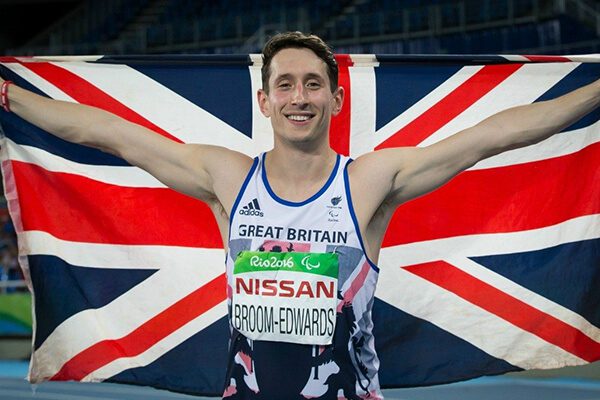 The inspire+ team are pleased to welcome Johnathan Broom-Edwards to the Ambassador team!
Jonathan Broom-Edwards is a Paralympic athlete competing in the High Jump, although alongside this he works as a soft tissue therapist, postural analyst and clinical biomechanist trainee.Jonathan Broom-Edwards Celebrates Silver at Rio 2016!
Jonathan was born with Talipes Equinovarus & clubbed foot and competes in the Men's T44 classification of the High Jump. It was only after the inspirational London Paralympics that he realised his impairment made him eligible for Paralympic competitions. Jonathan had been playing able-bodied basketball at Loughborough University, alongside studying aeronautical engineering, when he and a friend decided to try high jump to help with their basketball leaps.
During that time, he was spotted by a sports massage therapist who asked about his disability. The therapist just so happened to know the head coach, Paula Dunn. After contacting her, it started the ball rolling for Jonathan's international career. Following international classification, he was able to compete in Para-athletic competitions.
In his first major international competition, the IPC Athletics World Championships in Lyon in July 2013, Jonathan set a new personal best of 2.08m, attaining a Silver Medal. He was then classed as an international athlete, and went into full time training alongside his clinical work.
The following year, he went on to achieve another Silver Medal in the IPC Athletics European Championships in Swansea in 2014, achieving a lifetime best of 2.15m which at the time, temporarily stood as a world record.
After a rough 2015 with an injury, the World Championships in Doha fortunately saw Jonathan claim another Silver medal. Following another injury, he then went on to achieve a Bronze at the European Championships in Grosseto Italy (Razza points system – combined class) in 2016.
However, overcoming the issues from the previous year, at the Paralympic Games in Rio de Janeiro, September 2016, Jonathan managed a season's best of 2.10m to secure Silver at his Paralympics debut! The road has now begun to Tokyo 2020. Jonathan also recently competed in London at the World Para Athletics Championships in July 2017 and jumped 2.08m to secure yet another Silver medal!
Become an inspire+ member
Interested in becoming one of our member schools? Call now on 01476 578 137 or click to...
Inspired Testimony
The additional sports funding for primary schools is spent extremely effectively to inspire pupils and ensure their sports skills and enthusiasm secured.
Click to read more of the fantastic testimonials and comments we have received from schools, parents, pupils and Ofsted...