New Partnership Delivers 'Learn to Cycle' Boost for 1000 Lincolnshire Primary School Pupils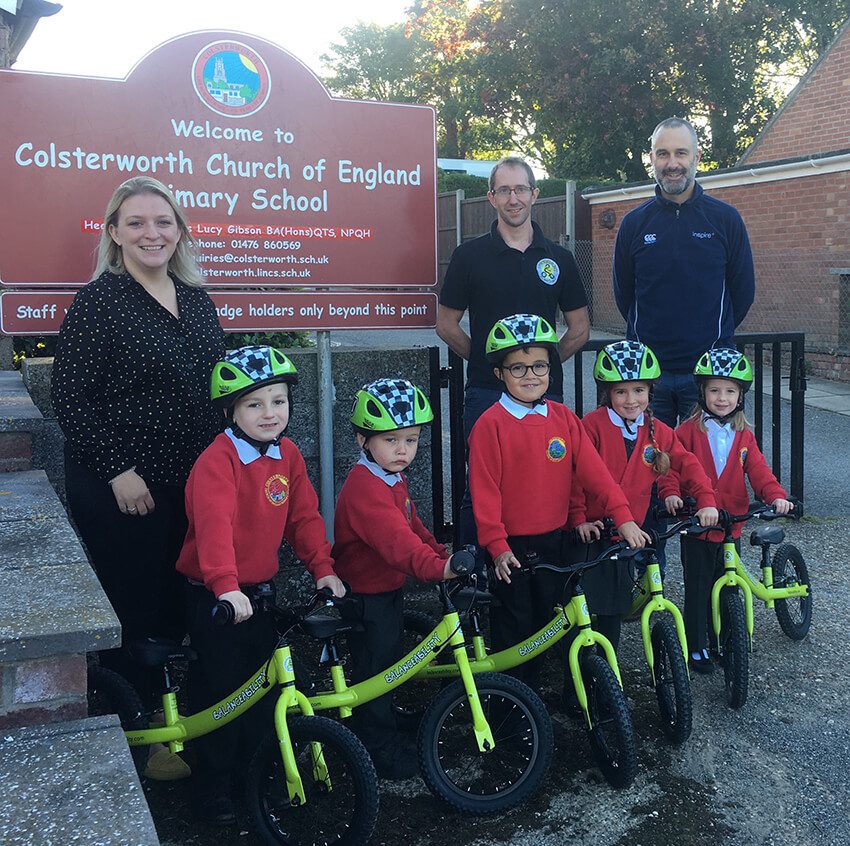 Over 1000 primary school pupils in Lincolnshire will be given the essential life skill of learning to ride a bike thanks to an exciting new partnership.
TTC Cycling, the UK's largest provider of cycling training, has joined forces with sports charity inspire+ to supply 10 x 14" balance bikes and 10 helmets to 24 schools in the area – the largest contract it has ever won in the East Midlands.
All training material required to deliver the UK-accredited 'Balancability' learn-to-cycle programme will also be provided so they can deliver the courses for years to come. Colsterworth Primary School, Long Bennington Primary Academy, Barrowby Primary School and The Bluecoat Primary School were amongst the first schools to receive their new bikes and will immediately get to work teaching Reception and Key Stage 1 pupils how to ride.
Samantha Wright, of TTC Cycling, explained: "We work with over 1500 schools across the country, with a lot of those relationships direct with the individual school. This contract represents a potential new way of working with education, as we have used inspire+ contacts and reach to come up with a 24-strong school package, involving more than 240 bikes."
She continued: "The challenge here was assembling so many bikes in such a short space of time so we have been very busy over the last three weeks putting them together to meet the delivery date of late September.
"More than 1000 young pupils will learn to cycle this year, but that's just the start. These bikes will then be passed down to 'new starters' so they can learn this really important life skill."
inspire+ is a unique sports charity who serve schools across South Kesteven and Lincolnshire.
Founded by Vincent Brittain in 2011, it aims to improve the lives of young people through sport and healthy active lifestyles, working with primary schools to provide a comprehensive package of support that includes teacher training, pupil leadership development, The Legacy Challenge and pupil mentoring.
The service to secondary schools focuses on providing leadership training and opportunities for students who want to gain experience, skills and knowledge of sports coaching and volunteering or staging sporting events.
"I had the aim of offering our member schools the opportunity to give reception/Key Stage 1 pupils the chance to learn to cycle on balance bikes having seen the difference it made to my son. This was in my mind when I attended the Lincolnshire PE Conference and this is where I first came across TTC Cycling," added Vincent.
"We discussed the opportunity and then TTC came back with a bespoke offer of support that meant 24 primary schools could benefit from accessing balance bikes and the course material. They even assembled the cycles to make life even easier for our schools."
TTC Group acquired Cycling Experience in 2014 ago as part of ambitions to expand its training into new specialist areas.
In the four years that have followed, the company has steadily grown its coverage across the UK, winning contracts to deliver cycle training to the general public, local authorities, other public sector bodies and commercial organisations.
The courses range from cycling promotion events and cycle training programmes, through to delivering National Standard cycle training.
For further information, please visit www.ttcgroup-uk.com or follow @ttcgroupuk on twitter. 
Latest News from inspire+
Week 6, Term 1. The pupils are loving the atmosphere we have created here at Uffington Primary School. We have over a quarter of the school access the provision either in the morning, after school or both. We have theme-based activities planned throughout the week:...
read more
England Athletics is delighted to announce that inspire+ has become the first provider to sign up for our funetics movement to help inspire primary school children to take part in fun athletics to get more active. It's a double celebration, as we celebrate the success...
read more
Become an inspire+ member
Interested in becoming one of our member schools? Call now on 01476 678 137 or click to…
Inspired Testimony
The additional sports funding for primary schools is spent extremely effectively to inspire pupils and ensure their sports skills and enthusiasm secured.
Click to read more of the fantastic testimonials and comments we have received from schools, parents, pupils and Ofsted…